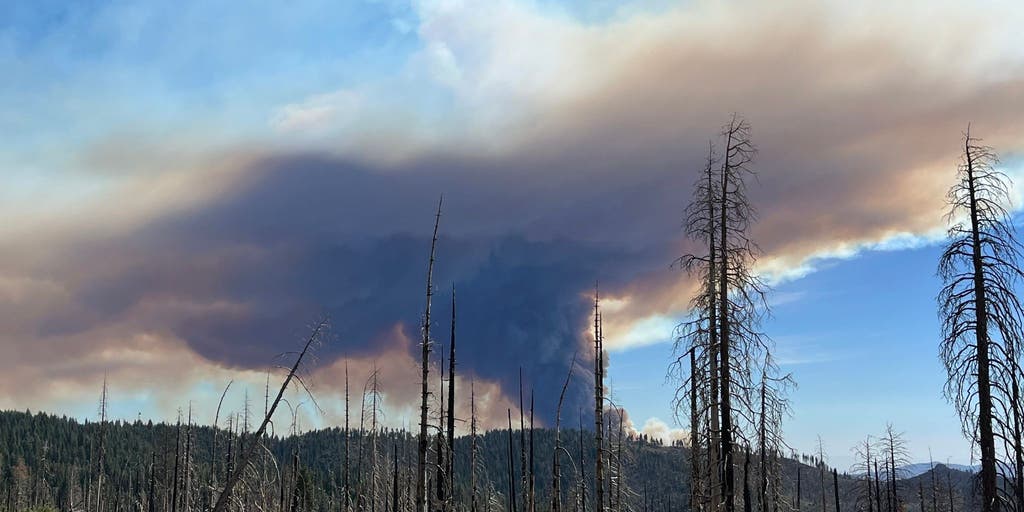 MARIPOSA COUNTY, Calif. – Low humidity and dry vegetation caused Central California's Oak Fire to rapidly grow over the weekend as hundreds of firefighters worked from both the ground and the air to try to contain the flames.
Officials ordered more than 6,000 people in Mariposa County to evacuate as flames destroyed more than 14,000 acres and threatened thousands of structures.
The evacuation order included the Lushmeadows community, a more densely populated area of the county.
Firefighters said at least 15 structures including several homes have either been damaged or destroyed by the flames.
Latest evacuation map: See More
HOW TO WATCH FOX WEATHER ON TV
The wildfire is burning out of control and threatening to push deeper into the Sierra National Forest.
A CAL FIRE spokesperson said local, state and federal resources are working together to try to stay ahead of the flames and resources were even pulled from Yosemite's Washburn Fire to help with firefighting efforts.
More than 400 personnel, 45 engines and 11 crews were assigned to the blaze that is more doubling in size every day.
The state's operations center is coordinating the fire response and has requested federal assistance. 
Governor Gavin Newsom declared a state of emergency Saturday to free up resources and aide for the impacted communities.
Officials believe the Oak Fire started on Friday afternoon near Midpines and said they are still working to determine the cause.
Several shelters were opened at local schools for people and animals in evacuation zones.
CALIFORNIA COMPANY USING ANIMALS TO REDUCE WILDFIRE DANGERS
A CAL FIRE spokesperson believes the combination of warm temperatures, high winds and a lack of precipitation during both the winter and spring helped the fire quickly grow.
Meteorologists say hot, dry conditions are expected to continue into the workweek, which could be detrimental to firefighters' efforts to try to contain the flames.
The wildfire is already the largest of the year in the Golden State.
Typically, the period from July through October are the state's busiest months for fire activity.