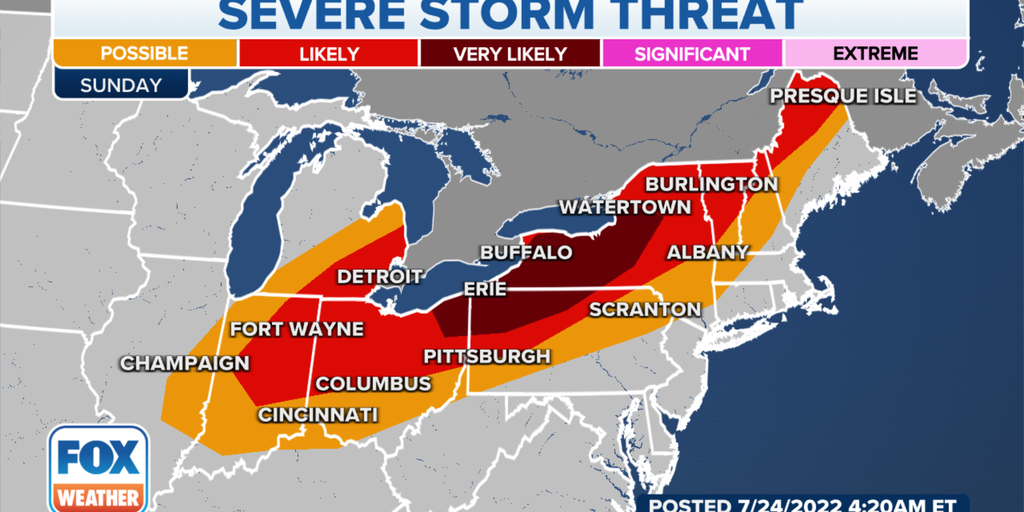 One person was killed and another was injured in severe storms as a frontal boundary that moved through the Upper Midwest on Saturday continued its trek eastward Sunday, triggering showers and thunderstorms from the Ohio Valley through the Northeast.
A severe thunderstorm swept through Venango County, Pennsylvania, Sunday afternoon, knocking a large tree onto two trailers in the Idlewood Trailer Park in Uniontown, according to the National Weather Service, sourcing a 911 call center report.  One person was killed, but no other details were given. Separate damage reports in the county indicated trees had fallen on another home and car.  
...article continued below
NEW Trump 'Funny Money' Will Drive Liberals Crazy!
There's nothing liberals like to do more than complain about President Trump! One way to drive them crazy is to wave this NEW Trump "Funny Money" in their face!
This unique limited time collectible is a great way to commemorate the historic presidency of Donald Trump while also driving the libs in your life crazy...
These high quality replicas make the perfect gift for any Trump supporter.
For a very limited time, the good folks at Patriot Powered Products are giving these away in a nationwide promotion.
You can claim your FREE Trump buck right now by going here.
Don't procrastinate though...these will be gone in no time!
In Bradford County, Pennsylvania, a tree fell on a pedestrian near Towanda, the NWS said. There is no word on that person's condition. 
A 911 call center in Kane has received over 30 reports of trees down on cars, houses, power lines and across roads, according to the National Weather Service. A spotter reported a tree down into a trailer near Polk and other trees down in Warren County. And in Pennsylvania's Wyoming County, tree falls stranded campers at a campground near the town of Falls.
In New York, Wellsville recorded a gust of 59 mph and Elmira hit 58 mph as a thunderstorm passed through. Over a dozen storm reports indicating tree falls have come in to the National Weather Service in the regions surrounding Elire, Ithaca and Oneonta.  About 70,000 were without power in Pennsylvania and New York as of 7:15 p.m. ET. 
A Severe Thunderstorm Watch covering nearly 5 million people is in effect now for much of western New York and northwestern Pennsylvania until 10 p.m. ET.  
Severe Thunderstorm Watches in Effect
(FOX Weather)
---
Another Severe Thunderstorm Watch is in effect for eastern Missouri, southern Illinois and southern Indiana until 11 p.m CT.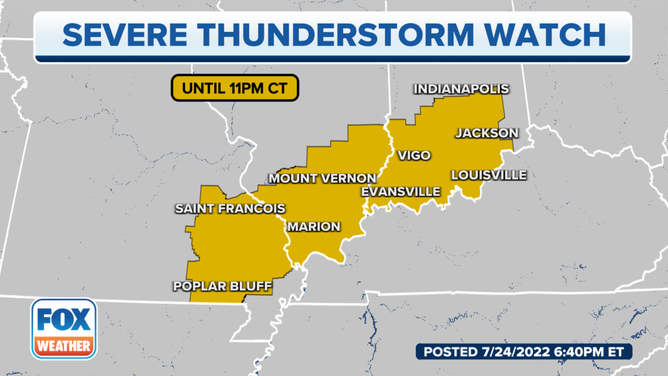 Damaging wind gusts to 70 mph are possible inside thunderstorms with hail the size of ping pong balls. A few tornadoes can't be ruled out.
Cities in Sunday's storm threat zone include Indianapolis, Columbus, Pittsburgh, Syracuse, New York and Burlington, Vermont.
HOW TO WATCH FOX WEATHER ON TV
Damaging wind gusts will likely be the primary severe risk, but large hail and tornadoes cannot be ruled out.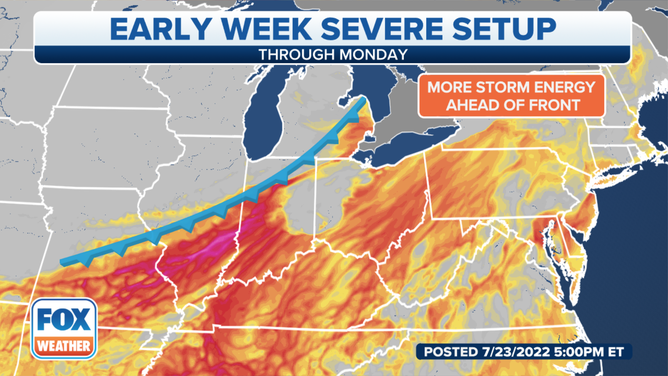 Forecasters at the Storm Prediction Center have outlined the Northeast through New England to have the greatest risk for tornadoes.
Monday forecast
The same frontal boundary will only manage to slide slightly eastward on Monday, meaning parts of the Northeast and mid-Atlantic will see an increased chance for strong to severe storms. 
The primary threat from the strongest of the storms appears to be damaging winds in the form of downbursts.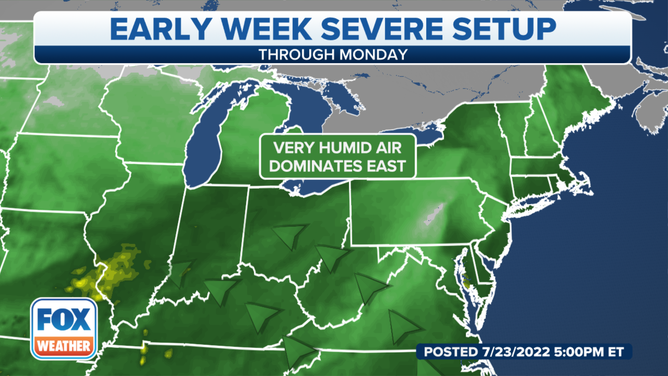 The boundary is expected to linger for areas of the mid-Atlantic and Tennessee Valley into the workweek, which will help keep storm chances around for several days.
CLICK HERE TO GET THE FOX WEATHER UPDATE PODCAST
Be sure to download the FOX Weather app to track any storms in your area and receive potentially life-saving weather alerts issued by the National Weather Service. The free FOX Weather livestream is also available 24/7 on the website and app and on your favorite streaming platform. The FOX Weather Update podcast also provides weather information for the entire country.