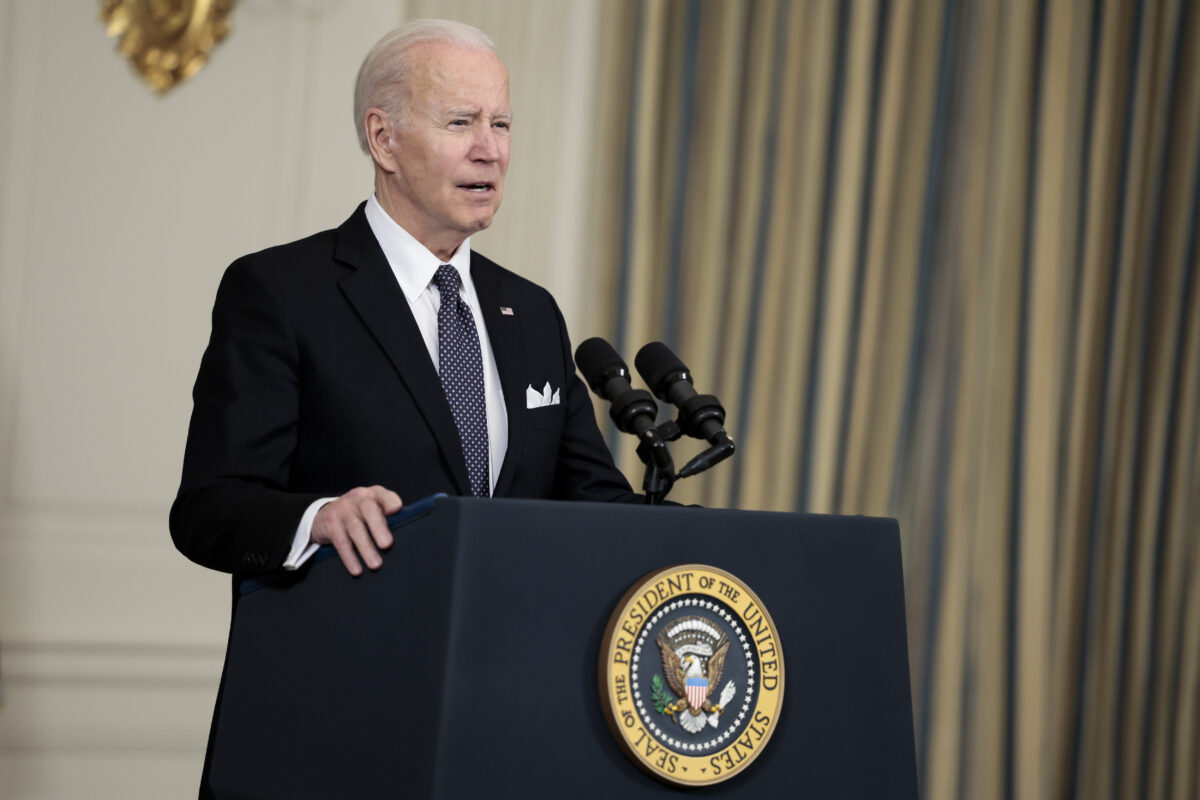 President Joe Biden says he isn't "reading anything into" statements from Russian officials signaling that the Russian military is drawing back some of its troops near the Ukrainian capitol of Kyiv.
Face-to-face negotiations between Russia and Ukraine Tuesday in Turkey yielded the first steps towards peace between the two nations more than a month into the war that has left thousands dead or injured and displaced nearly four million Ukrainians.
During the talks, Russia proposed drawing down its troop presence in and around Kyiv while Ukraine proposed adopting a neutral status on the international stage.
...article continued below
NEW Trump 'Funny Money' Will Drive Liberals Crazy!
There's nothing liberals like to do more than complain about President Trump! One way to drive them crazy is to wave this NEW Trump "Funny Money" in their face!
This unique limited time collectible is a great way to commemorate the historic presidency of Donald Trump while also driving the libs in your life crazy...
These high quality replicas make the perfect gift for any Trump supporter.
For a very limited time, the good folks at Patriot Powered Products are giving these away in a nationwide promotion.
You can claim your FREE Trump buck right now by going here.
Don't procrastinate though...these will be gone in no time!
Russian Deputy Defence Minister Alexander Fomin told reporters that in order to further negotiations Russia had "by a large margin" reduced military activity in the Kyiv and Chernihiv directions.
"We'll see. I don't read anything into it until I see what their actions are," Biden responded when asked by a reporter about Russia's announcement that they would cutback operations in Kyiv. "We'll see if they follow through with [what] they've  suggested."
White House director of communications Kate Bedingfield later reiterated the president's comments, referring to Russia's troop movements as a "redeployment and not a withdrawal" and saying that the world should be prepared for Russia's offensive to continue.
"I think we should be clear-eyed about the reality of what's happening on the ground and no one should be fooled by Russia's announcements," Bedingfield said.
Bedingfield also voiced U.S. support for Ukrainian efforts at the negotiating table saying the U.S. is focused on putting Ukraine in the best position there "and on the battlefield."
Ukraine President Volodymyr Zelensky said there are "positive" signals coming from the talks with Russia, but he added that "we are not seeing grounds to trust the words coming from representatives of the country that continues fighting to destroy us."
Zelensky says Ukraine supports the talks continuing.
While the Ukrainian leader has indicated that he is willing to cede to the Russian demand that Ukraine itself be a neutral country, he demanded Tuesday that "Russian troops must leave occupied territories. Sovereignty and territorial integrity of Ukraine must be guaranteed."
Vladimir Medinsky, head of Russia's delegation for talks with Ukraine, made demands that Ukraine declares neutrality and give up aspirations to get back the territories of Crimea and Sevastopol through military means. He also said that security guarantees don't apply to Donetsk and Luhansk—two contested regions in Ukraine's Donbas region.
"Ukraine abandons joining military unions, deploying military bases and contingents, or holding military drills on the territory of Ukraine without an agreement of guarantor states—including the Russian Federation," said Medinsky. "For its part, the Russian Federation is not opposed to the willingness of Ukraine to join the European Union."
Russia invaded Ukraine on Feb. 24 and has attacked its major cities following a speech from Russian President Vladimir Putin challenging the legitimacy of Ukrainian statehood and expressing concerns about NATO expansion.
The United States along with its allies has continued to ratchet up economic sanctions against Russian while approving billions in humanitarian and military aid to Ukraine.
Biden has referred to Putin as a "butcher" and said over the weekend that the Russian leader "should not remain in power."
The White House, and later Biden himself, has had to clarify the latter statement saying that he was "expressing outrage" and "not articulating a change in U.S. policy" towards Russian leadership.
The Associated Press contributed to this report.