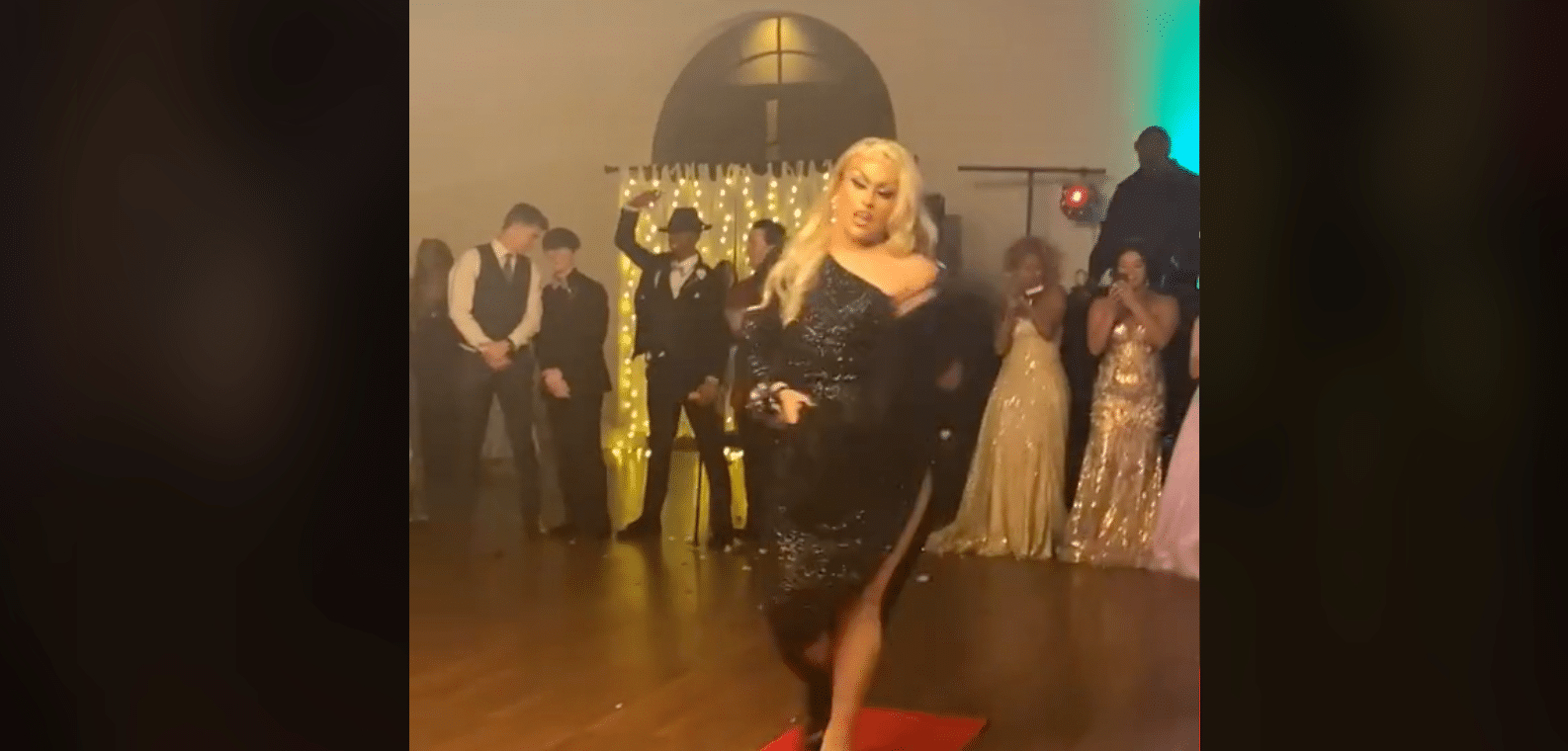 The category is high school prom king realness.  When Cristian Hernandez was named prom king of his Indiana high school, the 18-year-old senior — standing next to his four suit-wearing competitors — barely missed a beat before strutting down the red carpet in a black sequined gown, blond wig, and feather boa to collect his crown.
"Honestly, when I walked out there, I left everybody speechless," said Hernandez, who is nonbinary and uses he and they pronouns. Before he heard his name called, though, Hernandez said he wasn't counting on a victory. "In my head, I'm thinking, "I'm not going to win.'
...article continued below
NEW Trump 'Funny Money' Will Drive Liberals Crazy!
There's nothing liberals like to do more than complain about President Trump! One way to drive them crazy is to wave this NEW Trump "Funny Money" in their face!
This unique limited time collectible is a great way to commemorate the historic presidency of Donald Trump while also driving the libs in your life crazy...
These high quality replicas make the perfect gift for any Trump supporter.
For a very limited time, the good folks at Patriot Powered Products are giving these away in a nationwide promotion.
You can claim your FREE Trump buck right now by going here.
Don't procrastinate though...these will be gone in no time!
@hotboycristian king… queen… whatever you wanna call it im still that bitch #prom #promking #promqueen #drag #gay #LGBT #mothersday #queen #rupualsdragrace #makeup ♬ original sound – Cristian🦋
I was just praying to the gay lords," he said with a laugh. When asked about his atypical prom attire, Hernandez said, "I was just planning to do something really crazy for prom, and I thought, 'Why not go in drag?'" Donning full drag is no easy task, though. Hernandez said it took him five hours to prepare for his evening, including full hair and makeup. But, he added, the extra effort wasn't all for the glamor.
"I want to inspire people to try and break down those barriers that have been put up," he said. It's not just students at Jeffersonville High School, located about 2 miles from the Kentucky border, who will get to enjoy Hernandez's crowning moment. It was all caught on camera and quickly went viral after Hernandez shared it on TikTok this week. The video had 150,000 views and more than 50,000 likes as of Friday afternoon.
Several viewers applauded Hernandez's runway prom strut. "I was a senior in 2013 and we had ONE out kid in school [of] over 2,000 kids. This warms my heart that you all get to be your most authentic selves," one person commented.
Another user said, "I'm so happy for you!!! This is major!! I won prom king and was so close to going in drag, I'm so glad someone did it." Hernandez said not everyone, including some of his classmates, were happy that he won, but he just shrugged them off. "The boys at school, they always have a problem with something," he said.
Asked if he had a message for other LGBTQ young people, Hernandez said: "Really be yourself, and confidence is key. You can't let people tear you down." Hernandez is part of a growing list of LGBTQ high school students who have made headlines for breaking down barriers and defying traditional gender boundaries.