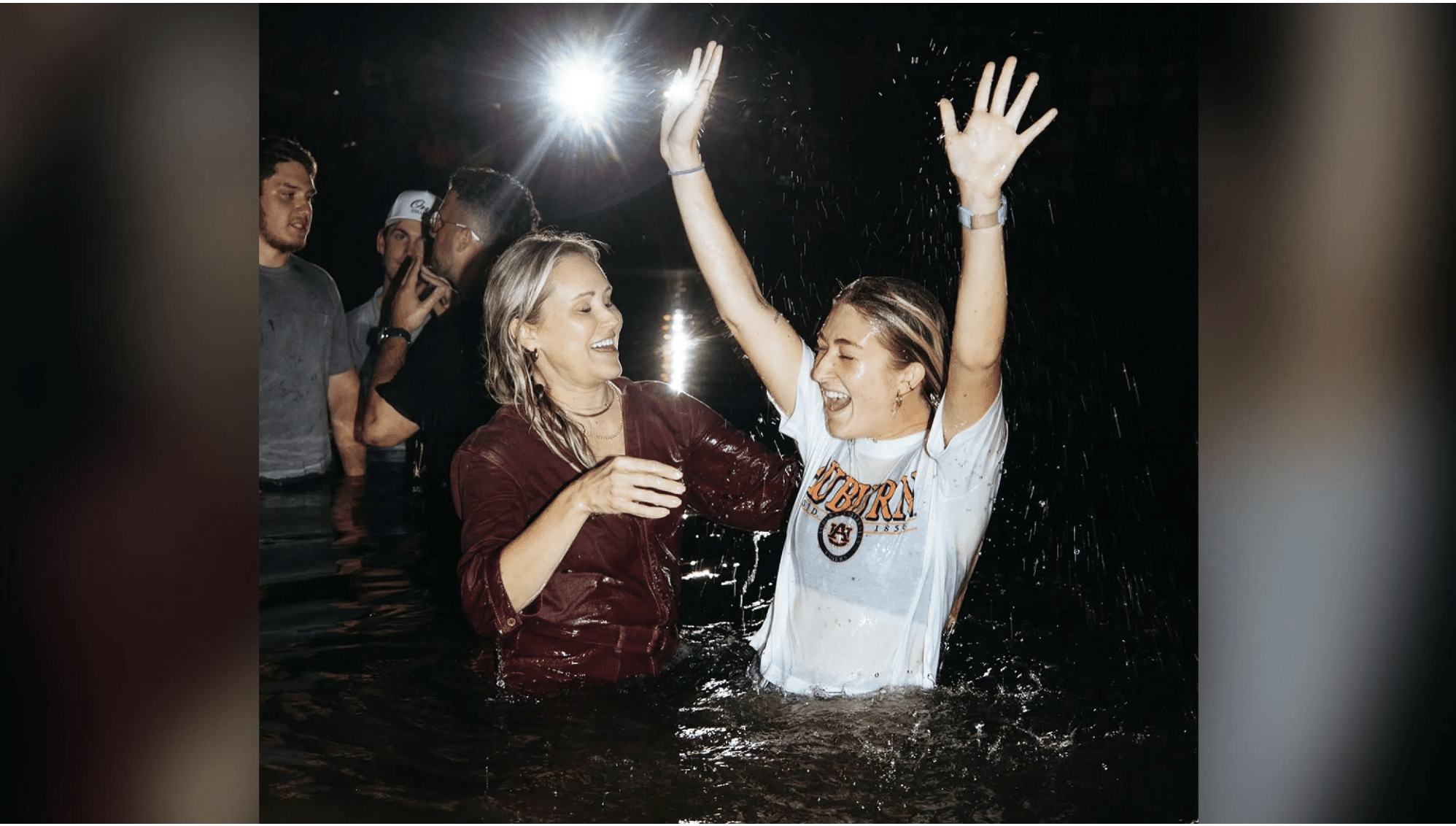 God is moving on college campuses across the country. Revival hit campuses like Asbury University, Lee University, and Samford University, earlier this year. And now Auburn University students are testifying that God moved at an event earlier this week that still has them "speechless and in awe."
Thousand of students at Auburn packed out Neville Arena on Tuesday night to worship and praise Jesus, but an impromptu baptism that started with one student wanting to be baptized grew to roughly 200 people who decided to give their lives to Christ.
...article continued below
NEW Trump 'Funny Money' Will Drive Liberals Crazy!
There's nothing liberals like to do more than complain about President Trump! One way to drive them crazy is to wave this NEW Trump "Funny Money" in their face!
This unique limited time collectible is a great way to commemorate the historic presidency of Donald Trump while also driving the libs in your life crazy...
These high quality replicas make the perfect gift for any Trump supporter.
For a very limited time, the good folks at Patriot Powered Products are giving these away in a nationwide promotion.
You can claim your FREE Trump buck right now by going here.
Don't procrastinate though...these will be gone in no time!
"I've seen Auburn basketball beat Kentucky. I've seen Auburn football beat Alabama, but I have never seen something like I did Tuesday night," Auburn University senior Michael Floyd told WFSA12 News.
More than 5,000 people showed up to Unite Auburn's "Night of Worship". The campus ministry's outreach was created to bring the Alabama school's Christian community together for a night of worship. It featured guest speakers New York Times Best Selling Author Jennie Allen and Pastor Jonathan Pokluda and worship was led by Passion Music.
Allen shared on Instagram that toward the end of the night, she felt led to ask students if they wanted to be baptized.
"I finished a message at Auburn and was off stage and a student texted the pastor beside me they wanted to be baptized tonight. So I went back on stage and asked if anyone else wanted to trust Christ and be baptized," she explained.
"Dozens raised their hands," Allen added. There wasn't a tub to baptize the students, so thousands of people headed over to a lake at Auburn's Red Barn. "They circled the lake and 6-10 of us were in the water baptizing hundreds," Allen described. Even Auburn's head football coach Hugh Freeze got in the water to help, WSFA12 reports.
"People surrounded the lake 'til almost midnight hearing the stories of life change and shouting and cheering and praying together. God is moving and He isn't stopping," Allen said.
Those who attended the event describe it as incredible. "I've been a part of just planning this event and man, the Lord just took it from there and we ended up at the Red Barn," Jeremy Napier, the chaplain for the Auburn men's basketball team, told The Gazette.
"It was not planned at all. I think this was a spontaneous decision at the very end where we just said, 'Let's go for it.'" Auburn student and journalist, Kristen Carr, witnessed the entire thing and told WFSA12 News it was something she had never seen before.